Generator Rentals In Indiana
Renting a generator is ideal for maintaining productivity and complying with regulations in your industry. Generators are especially convenient for remote sites that lack access to the grid. At MacAllister Power Systems, we offer rental diesel generators at competitive rates that align with your budget. To check availability at your nearest location, call our dedicated hotline at 866-622-7367.
Looking for a small portable generator? Visit our sister site, MacAllister Rentals, for portable generator rentals.
THE INDUSTRY'S LEADING GENERATORS FOR RENT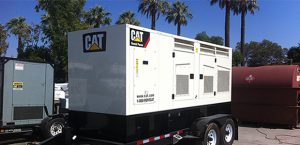 Temporary power can be essential for continuing your operations, and we have the widest assortment of high-quality power generation equipment. Our rental inventory consists of expertly maintained Cat® generators, which serve as prime or standby power for numerous applications. MacAllister Power Systems Rental offers diesel powered generator rentals in sizes ranging from 20kW to 2,000kW.
Our certified rental professionals can recommend the most practical choice for your day-to-day projects or emergency preparedness, from highly mobile, towable generators to large containerized models.
Cat rental generators are equipped with options such as:
Simultaneous dual voltage 208/480 volt outputs
Fine Voltage adjustments on operators panel
Array of courtesy power options
Trailer mounted
24 hour on board fuel supply
Ultra quiet operation
Electronic governors
Auto start ready for back up power
TOWABLE GENERATOR RENTALS
When maneuverability is your primary focus, towable generators are the perfect fit. Our rental diesel generators have a variety of hitch options for easy transport with your company vehicles. Cat towable generator rentals feature sound-attenuated encasements and exhaust silencers to reduce noise. What's more, you're acquiring a highly efficient piece of equipment to help you save on fuel and meet stringent EPA emissions guidelines.
LARGE GENERATOR RENTALS
Factory-designed in a robust high cube container, our large generators deliver significant power for the most demanding applications. Their easy-to-use control panels allow you to reconfigure your facility's supply of electricity at will and achieve tighter management of fuel to maximize efficiency. These heavy-duty generators also have phase-sensing capabilities for a constant voltage over extended periods of time.
GET FULL-SERVICE RENTAL SUPPORT FROM MACALLISTER POWER SYSTEMS
To meet a temporary power need, renting a diesel generator can be an economical alternative to buying. Rent from MacAllister Power Systems, and you'll benefit from a committed service team backing up your operations around-the-clock. You'll also get:
The largest rental generator fleet in Indiana: Whether you need a single unit or multiple units, you'll find no shortage of durable, fuel-efficient generators in our inventory.
24-hour rentals: We streamline the renting process to meet your needs in an emergency. In addition, we have all the ancillary fuel sources and electrical distribution equipment to complement your generator rental.
Support from experienced technicians: Consult with our professionals for your specific application or comprehensive contingency planning.
Multiple convenient locations: We have locations throughout Indiana to supply equipment and parts wherever your business is located. On-site support from a trained technician is always available.
Flexible rental terms: MacAllister Power Systems strives to offer the most competitive rental rates. We provide our generator rentals on a daily, weekly and monthly basis.
GENERATOR SPECIFICATION SHEETS
The specification sheets below provide details of the MacAllister Power Systems Rental fleet of generator sets and related equipment, all designed and built exclusively for rental applications.
View Amperage Chart (pdf)
View Useful Formulas (pdf)
RENTAL MOBILE TURBINE
5.2 MW Output XQ5200 Mobile Turbine (pdf)
RENTAL LOAD BANK
Resistive/Reactive Mobile Load Bank (pdf)
CONTACT US TODAY TO LEARN MORE ABOUT CAT GENERATORS FOR RENT
MacAllister Power Systems has over 75 years of power system experience and is your exclusive source of Cat power generators in the area. To get a quote on a rental, call us at 866-622-7367 or submit our online contact form today.