Whether you're upgrading your facility's power generator or you need to get rid of old equipment, it can be challenging to get rid of a used generator. Removing a used generator takes effort and time. The process can be complicated, from decommissioning and dismantling to proper disposal.
Fortunately, you have several options for disposing of your used generator. Some options will even get you a payoff. This article explains the pros and cons of all the methods you can use to get rid of your used generator.
Determining the Value of Used Generators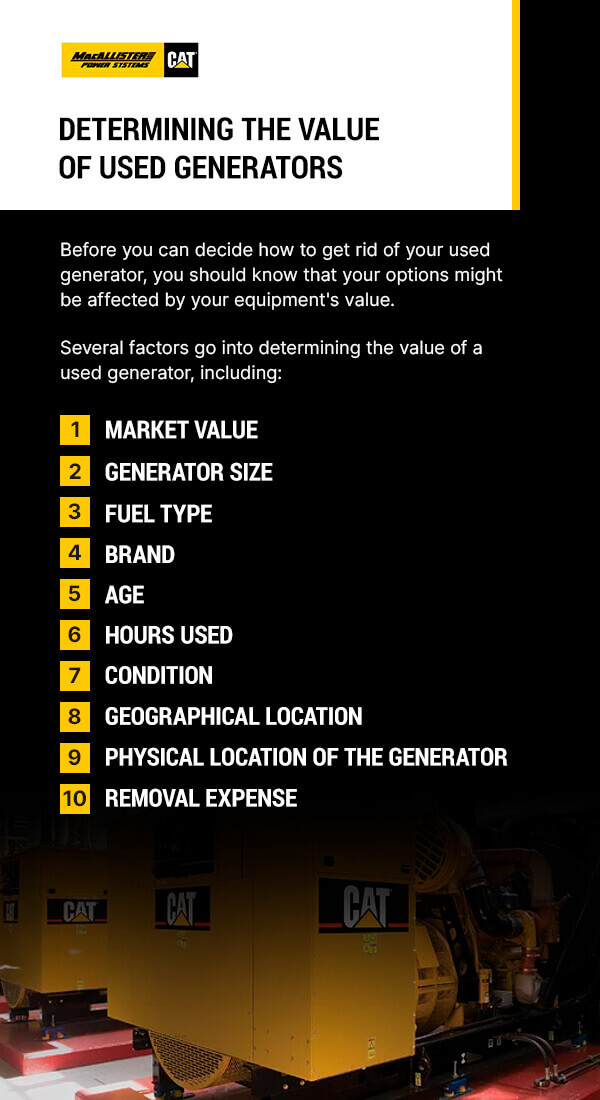 Before you can decide how to get rid of your used generator, you should know that your options might be affected by your equipment's value. Several factors go into determining the value of a used generator, including:
Market value: Market value is the price your generator is currently selling for on the market.
Generator size: Typically, a larger generator is worth more.
Fuel type: Some sellers prefer a diesel, gasoline, natural gas or dual fuel generator.
Brand: Particular brands will bring in a better price.
Age: The older a used generator, the less value it likely has.
Hours used: A lightly used generator will bring more in a sale than more heavily used equipment.
Condition: Maintaining a used generator can increase its resale value. If the equipment has broken down, it's more challenging to repair.
Geographical location: A buyer who has to travel to buy your generator might value it less.
Physical location of the generator: Generators in difficult-to-reach areas cost more to remove.
Removal expense: The cost to remove a generator will vary by generator's size and location.
Knowing these factors can help you decide how to get rid of your used generator. Consider these options of what to do with used generators so you can choose the most cost-effective one for you:
1. Scrap Your Used Generator
Scrapping a used generator is the same as scrapping an old car or other pieces of equipment. The process involves disconnecting and breaking the generator down on your property. Then you can haul it to a scrap or salvage yard. While there are some advantages to scrapping a used generator, there are also some drawbacks:
Pros
Here are the main advantages of scrapping your old generator:
Straightforward process: Trashing your used generator is relatively straightforward. Generally, all you need to do is call around at local scrap yards and compare pricing. Once you've determined the best location, you can pull the generator apart. Then you can transport it to the scrap yard. You may be able to break the generator down and take it to scrap the same day.
Works for generators in all conditions: Landfills or scrap yards accept scrap in any condition. If your used generator is in bad shape, scrapping it might be your only option.
Cons
These are some of the disadvantages:
No payout: You'll need to spend considerable effort and time breaking down the generator. It will probably cost you money to dispose of the equipment.
Removal costs: You'll have to disconnect the generator safely before removing it and transporting it to the landfill. If you're unable to do these steps yourself, you'll have to pay for another company to do them.
The effort and cost of scrapping your used generator may not be worth it since you won't get any money back. There is also a demand for used generators, so you have more options. Overall, trashing your used generator is the worst option for getting rid of a used generator.

2. Recycle Your Used Generator
An alternative to scrapping is recycling your used generator. Recycling centers will accept many kinds of scrap metal, like steel, copper and aluminum. You can take your used generator to a recycling center as long as you drain it of fuel and oil. Some recycling centers will also pick up your generator for you. Consider the primary benefits and disadvantages of choosing to recycle your used generator:
Pros
Recycling your old generator comes with these benefits:
Straightforward process: Recycling a used generator is similar to scrapping it at a salvage yard. First, determine which recycling center will take your used generator. Then you can dismantle the generator on your site and transport it to the recycling center.
Better return than scrapping: Recycling will provide you with a payout based on your scrap material's weight and market value. Some centers may even pay more than scrap value.
Cons
Here are some of the drawbacks of recycling your used generator:
Limited payout: The weight of your generator's scrap materials and their market value factor into your payout. In addition, you'll likely receive the value of mixed scrap metals. You can get a higher price if you separate the generator metals by type, whether steel, copper or aluminum.
Hazardous material fee: Some recycling centers will also charge a hazardous material fee. The fee applies if you don't fully drain the generator of fuel and oil.
Dismantling and removal cost: If you dismantle the generator yourself, you'll have to handle labor and time costs. That involves disconnecting and removing the generator from its location. Removal requires transporting the generator to the recycling center.
While recycling is better than trashing your generator, better options exist.
3. Part Out Your Used Generator
Maybe you want a better payout than recycling or scraping your generator offers. Can you sell a used generator? You certainly can, and there are several ways to do it. One option is parting your used generator out. This process involves dismantling the generator and selling it piece by piece. Parting your generator out has several pros and cons:
Pros
Parting out your generator can offer these advantages:
Better payout: A recycling or scrap yard will only pay you a few cents per pound of scrap material. Parting your generator can bring a significantly greater return. You can also wait for a buyer who will pay what you charge, giving you more selling options.
Lower removal costs: The cost to remove a generator may be significantly less if you part your generator out. Instead of breaking the generator down yourself, you can let the buyer do it. This solution saves you work and money. Buyers can remove the parts they want a bit at a time, so you don't have to dismantle the entire generator yourself.
Cons
Here are some of the disadvantages:
Dismantling costs: Usually, selling your used generator by parts requires you to dismantle it. This process takes time, tools and effort. If you invest the time and money into dismantling the generator, you'll only recoup your losses if you sell all the parts. However, the market for individual generator parts is smaller than for complete units. Any pieces you can't sell will go for scrap value.
Potential damage to the generator: Allowing the buyer to tear the generator apart will save money. However, you risk incurring damage to other pieces. If a buyer damages other parts, they ultimately decrease the generator's worth to you.
Potential property damage: Allowing the buyer to break your generator down brings other safety concerns. If a buyer dismantles your generator on your property, they could become injured or damage your property in other ways.
Ultimately, many commercial businesses find that parting their used generator isn't worth the risk.
4. Sell Your Used Generator Privately
You can also sell your entire generator unit to a private buyer. This process requires finding a potential buyer who will pay what you want for the generator, online or in another marketplace. You'll still need to remove the generator from your location, but the payoff is greater. Here are a few pros and cons of selling your used generator privately:
Pros
Some of the benefits of selling your old generator privately include:
Better chance of selling: The market for used generator units is considerably larger than for generator parts. This option gives you a better chance of selling your entire generator. You can also sell a used generator for much more than the value of scrap metal, giving you a higher return.
Sell generators in various conditions: You can find buyers for top-condition generators and older units too. If you have a smaller 20kW generator, a private sale is likely your best shot at getting the most value out of your used generator.
Cons
Selling privately also comes with some drawbacks:
Accurate valuation is essential: It's best to avoid over- or under-valuing your used generator in a private sale. You must accurately assess and value your generator to give it the best chance of selling.
Limited customer base: If you have a used industrial generator for sale, you need to cater to businesses and commercial buyers. Most marketplaces are more popular with private customers.
Additional fees: Marketplaces might also charge commission and listing fees, which could drive up your price or reduce your payout.
Disconnecting and removal costs: Most private buyers won't be interested in disconnecting the generator themselves. You'll have to find another way to remove the used generator from your facility. You can do this yourself and include the cost in your price. However, the price could then be high enough to drive away many potential buyers.
5. Trade It In
If you don't want to deal with private buyers, you can shift your focus to commercial buyers. Some generator dealers will allow you to trade in your used generator for a new or newer model. If you need a replacement generator, this is a viable option. It can also be significantly less expensive than the other options for selling a used generator.
Pros
Consider these pros before trading in your used generator:
Replace your old generator with a new one: Trading in an old generator is a reasonable option if you are looking for a new generator. You'll be able to get rid of your used generator and replace it with a better one. This is especially useful if your facility is upgrading or expanding its generator needs.
Removal services: The company you buy your new generator from will often remove the old one from your facility, whether on the roof, basement or below the ground. This is a significant benefit because you won't have to deal with the labor, tools and time involved in the dismantling process.
Cons
Account for these cons as well:
Disconnection and removal costs: The most significant disadvantage of trading in your generator is that you'll need to pay for disconnecting and removing the generator from your facility. The company that you buy your new generator from will include removal and installation in the price.
Generator inspection: Some companies may complete a review to ensure your old generator is in working order. If your generator is in poor condition, you may need to repair it before trading. The company's purchase offer could decrease if they need to make repairs. A used generator in bad shape may only be fit for recycling or scrapping.
6. Sell Your Used Generator to a Specialized Company
One last option is to sell to a specialized company like MacAllister Power Systems that can disconnect and remove your used generator for you. Reputable companies will pay you for your generator's value upfront and provide a detailed removal timeline. These companies will typically complete the removal fastest and pay the highest value for your equipment. This makes them a reliable way to get rid of your used generator.

Selling to a specialized company also carries the least risk. The hired company assumes all the risk of damage to your facility or equipment. Ensure that the company you work with has the necessary licenses and insurance before committing.
This is the best option for many businesses if you want to get rid of your used generator without replacing it. This option delivers the highest payoff while requiring the least amount of time and energy from you. Here are a few things to keep in mind when deciding whether to sell your used generator to a specialized company:
Decommissioning and Removal Services
A unique aspect of selling to a specialized company is the option to use their decommissioning and asset recovery services. Most commercial generators need some level of decommissioning before removal. Services like decommissioning and asset recovery are highly valuable during the removal process.
These services involve:
Site inspection: A site inspection determines the condition of your generator and the overall site.
Review: The specialized company will review the specifications, determine the value of your generator and make an offer. Specialized companies will also handle the necessary permits where applicable.
Decommissioning: Next is removing the electrical connection between the generator and your facility. Then the company will disconnect the generator from the installation site.
Removal: Generators are heavy and may require a truck or crane to be removed from a facility. A specialized company has the equipment and experience to remove any generator.
The cost of decommissioning and removal impacts what you'll receive for your generator. If the generator is in a hard-to-get spot, the removal cost increases, resulting in a lower price for your generator.
Generator Sizing
If your generator is smaller, a generator dealer may not purchase it. For instance, a generator less than 20kW is too small for most generator dealers, including MacAllister Power Systems. These companies look for larger generators, including:
Medium-sized generators from 20kW to 100kW.
Large generators from 100kW to 500kW.
Extra-large generators above 500kW.
Contact MacAllister Power Systems for a Free Appraisal
At MacAllister Power Systems, we make the industrial generator selling process easy. When you need a fast, reliable way to sell your used commercial generator and remove it from your location, you can count on us. We purchase commercial generators from Caterpillar, Cummins, Kohler and many more brands. You can be confident you're receiving the best price when you sell your used gasoline, diesel or natural gas generator to us.
Our top priority is providing the best service to our clients. We provide an expert valuation of your generator's worth and experienced removal. At MacAllister Power Systems, we'll provide competitive and fair payment upfront.
Get a free appraisal today to start the process!