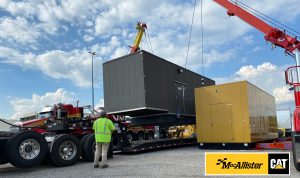 No matter what industry you operate in, we have your decommissioning and asset recovery needs covered. MacAllister Power Systems has the manpower, industry experience and expertise required to complete full-scale facility decommissioning for a variety of industries. From telecommunications hubs to data centers and beyond, no project is too big or small for MacAllister Power Systems to tackle. Our team will quickly provide a full valuation of your equipment, a detailed timeline for removal and a timely clean-up of the job site.
Why choose MacAllister?
Equipment and Industry Expertise
Turnkey Solutions
Maximized Return On Investment
Who knows your equipment or it's value better? We are your trusted partner with 75 years of industry experience. If you need any assistance with decommissioning or asset recovery, we want to be your first and only call.
What Is Decommissioning?
Whether a hospital is replacing an aging generator set, a data center is shutting its doors, or any other facility has a need for equipment removal, decommissioning is the first step in the process. The team at MacAllister Power Systems will visit your facility for an inspection, after which our skilled and knowledgeable team will provide a valuation of the assets in question as well as a budget and timeline for disconnection, removal and clean-up.
We Buy Industrial Power Equipment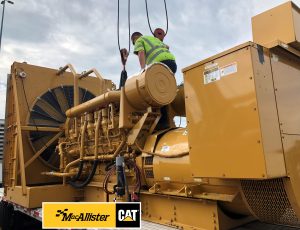 At MacAllister Power Systems, we work with a range of industrial equipment. Let us take care of tasks like disconnecting your equipment before proper removal, transportation and disposal. We buy many kinds of industrial power systems and supplies, including:
Generators
Generator sets
Transformers
Transfer switches
Switchgear
Fuel tanks
Chillers
Boilers
Uninterruptible power supplies
All makes & models
Learn more about what equipment we are interested in purchasing by visiting our FAQ page.
Generators We Buy
Removing a used generator from your site can be a challenge compared to other pieces of equipment. With factors like your equipment's size, weight or health and safety concerns at play, it is essential to follow the correct decommissioning procedure to keep yourself and your facility safe.
The MacAllister Power Systems team has years of experience decommissioning used generators of all models and sizes. Some of the major generator brands we buy include:
Caterpillar
Cummins
Kohler
Olympian
Onan
Generac
MTU
Katolight
Kubota
We do not limit ourselves to these brands. If you have a system from another manufacturer, feel free to get in touch.
At MacAllister Power Systems, we only purchase industrial power systems. Note that we do not buy small or residential-sized equipment as part of our decommissioning services. Learn more about our decommissioning services and what equipment we purchase by reviewing our FAQ page.
Get an appraisal of your generator today.
Benefits of Decommissioning
Undergoing the decommissioning process provides various benefits for any company. Instead of spending money to remove used or surplus equipment, you can earn money through the sale. Liquidating unused assets is also more profitable than recycling equipment at a recycling center. You can redirect this cash flow to better suit your current business needs.
Decommissioning equipment also provides environmental benefits. By decommissioning your industrial equipment, you can prevent materials from ending up in a scrap yard or landfill. Many investors are more likely to partner with a company that utilizes a sustainability plan. Meeting sustainability goals can also reduce expenses for your business, making decommissioning a cost-effective choice.
Some additional benefits of decommissioning equipment include:
Recoup Your Working Capital Faster
Turnkey Solutions
Reduce Costs
Reduce Risks
Maximize Asset Recovery
Clients We Typically Serve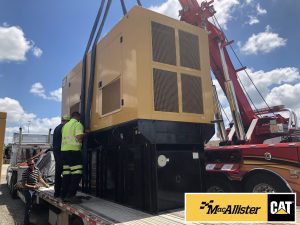 MacAllister Power Systems is proud to serve a wide array of clients and industries. Our team has years of valuable industry experience. We will work with you to find the best course of action to reduce downtime and prevent damages to equipment and your facility. Some of the clients we typically serve include:
Data Centers
Hospitals
Telecommunication Centers
Financial Institutions
Business Centers
Treatment Plants
Airports
Decommissioning  Services We Offer
One of the more significant challenges of a decommissioning project is coordinating with multiple contractors needed to complete each task. MacAllister Power Systems is a full-service company, and our team can handle your decommissioning services from start to finish.
We are proud to provide services to businesses in the Heartland states and Southeast states. Some of our services include:
Electrical Disconnect
Ancillary Equipment Removal
Fuel Removal
Rigging and Lifting
Transportation
Asset Recovery
Asset Recycling
The Benefits of Partnering With MacAllister Power Systems
Decommissioning equipment involves more than unplugging a few cables and moving the equipment off-site. You must also have the expertise to ensure the entire decommissioning process is safe. You must also know how to properly shut down equipment and prepare it for transport to maintain the value of your assets.
When you partner with MacAllister Power Systems. we make the decommissioning process easy so you can focus on the daily operations of your business. Whether you are looking to buy or sell, MacAllister Power Systems is your one-stop-shop for power systems.
If you are looking to replace your current equipment, we offer trade-up credit. With this credit, we will take the value of your decommissioned equipment and put it toward the purchase of your new equipment. We have a wide selection of new equipment and quality used equipment for you to choose from, and we offer additional financing to help cover the remaining costs.
With over 75 years of experience backing us up, you can trust MacAllister Power Systems and our expert team for all your decommission and asset recovery services.
Contact Us Today for an Estimate
Contact us today if you would like to learn more about our solutions for decommissioning industrial equipment. To receive an appraisal or project estimate, call us at 866-977-4596 or reach out online.