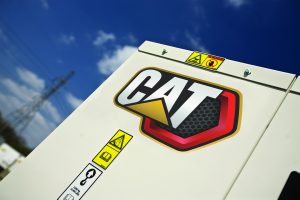 MacAllister Power Systems is your trusted partner in providing on-site electrical power generation, temperature control and mobile air compressors. Our team is available around the clock to support your business with customized, turnkey rental solutions. Our power systems for rent will help minimize downtime and maximize efficiency during critical situations.
Whether you're dealing with an emergency or planning a year in advance, the equipment simply has to be there when you need it. That's a good reason to rely on MacAllister Power Systems for Cat® rental power.
Why Choose Rental Power Equipment?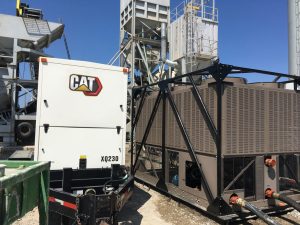 Many industries need to have an affordable, alternative source of electricity available at any given time. Your company may require backup power in case of a sudden outage or if you have no utilities at a remote site. We assist construction companies, municipalities, plant operators and many other sectors throughout Indiana by keeping projects safe and on-schedule.
MacAllister Power Systems Rental offers diesel-powered generators in sizes ranging from 20kW to 2,000kW and related electrical distribution equipment. Choose from towable as well as containerized models. Our generators for rent are known for their high-mobility, low-noise encasements and fuel efficiency.
Cat rental generators are equipped with options such as:
Simultaneous dual voltage 208/480 volt outputs
Fine Voltage adjustments on operators panel
Array of courtesy power options
Trailer mounted
24 hour on board fuel supply
Ultra quiet operation
Electronic governors
Auto start ready for back up power
Customized Power Equipment Rentals

Power systems help you respond to natural disasters, stay in power during widespread outages or serve remote job sites. Whatever the circumstance, MacAllister Power Systems offers robust, high-capacity generators that will keep your operation online. Use our solutions to continue running plant equipment and electronics or to control your environment's temperature and humidity. Our power systems are used in many fields, including construction, municipal, agriculture and corporate sectors.
As a local authorized dealer of Cat generators, MacAllister Power Systems offers prime, continuous or standby power equipment for rent, featuring the latest diesel engine innovations. These world-class generators have been engineered for low fuel consumption and emissions while leading the industry in output and distribution.
Power Systems Rental Offers:
Power generation equipment: When you need power on demand, MacAllister Power Systems has you covered with a wide range of generator rentals. Our fleet includes units capable of 20 kW up to 2,000 kW to meet your power needs.
Electrical distribution equipment: In addition to a generator, you'll need to manage the electricity with the right cabling and devices. Our rental options include automatic transfer switches, configurable I-line panels, load centers, breaker disconnects and fuse disconnects. For assistance setting up or configuring your temporary power solution, contact our team of engineers.
Temperature control expertise: MacAllister Power Systems understands the importance of a carefully maintained climate, whether it's keeping your workers warm or preserving your inventory from the cold. We can recommend a unit that meets your heat and air conditioning needs for a given area. Simply discuss your site with one of our knowledgeable representatives.
Compressed air solutions: Our portable and industrial air compressors deliver standard compressed air for general construction projects. If your facility needs clean, cool ventilation with no contaminants, we also provide filtered units that handle instrument-quality or oil-free air. Talk to us about finding a unit with the PSI and CFM necessary for the job.
So whether you're looking for a long-term power contingency plan or you need backup power right away, call our 24-hour Rental Hotline at 866-622-7367 or contact us online.
Helpful Links
Markets We Serve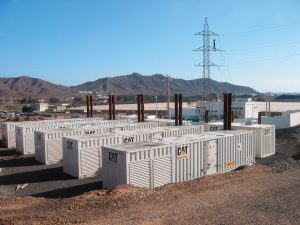 Energy Utilities:  The utility industry is changing dramatically. Deregulation and privatization are under way in nearly every country. Mergers, acquisitions and investments are occurring rapidly, often across national borders. Electric power markets, the last great-regulated monopoly, are opening to competition.
Manufacturing:  High-value manufacturing processes depend on reliable electricity to maintain throughout and protect product integrity.
Commercial Business:  On-site power systems are key components in networks linking corporate headquarters with branch offices and retail outlets in widely scattered locations.
Communications:  Reliable electric power is essential in the communications industry, where customers expect trouble-free connections and uninterrupted service.
Agriculture:  On-site electric power systems help give the world's farmers a bit of certainty in a largely unpredictable business. Applications are almost as diverse as the farms themselves.
Construction and Mining:  On-site electric power is ideal for the highly variable needs of construction and extractive industries. Installed or mobile systems provide power in areas beyond the reach of utilities.
Public Entities and Civil Service:  Reliable electricity helps public facilities serve a wide range of needs, from health care and protection through transportation, education and constituent service.
Event Services:  When planning a special event, be sure to consider power and temperature control. MacAllister Power Systems has over 75 years of experience in event planning, layout, and execution.
Power Applications We Support
General Contractors and Construction
Job trailer power
Tower crane power
Power for hand tools
Temporary electrical service to buildings
Power during rehab operation
Well and Pump
Power for submersibles
Power for hand tools
Quarries and Mining
Motor starting
Batch plant power
Music and Television Production
Sound and light power
Production trailer power
Catering power
Industrial Plants
Power during shutdowns and turnarounds
Peak shaving
Electrical Contractors
Emergency power
Temporary power during switchgear maintenance
Festival or fair power
Job trailer power
Repair work power
Restoration Contractors
Emergency power for drying equipment
Temporary power for buildings under repair
Home Builders
Display power
Temporary power for hand tools
Cellular Towers
Power for portable or permanent towers
Emergency power
Manufacturing
European machine testing
Power for additional manufacturing capacity
Temporary facility power
Advantages of Renting From MacAllister Power Systems
Renting is a cost-effective solution for temporary power requirements. As a rental power equipment dealer, MacAllister Power Systems provides customized generator sets from the most trusted manufacturers in the industry. We've served commercial businesses in the local area for over 75 years, and we're well-equipped to serve you with the following benefits:
The largest fleet of generators in Indiana: We have numerous low-hour models in a variety of sizes, configurations and power outputs. You're sure to find a rental system that fits your load requirements and application. Plus, each of our units receives meticulous maintenance by our service team. When you rent from MacAllister Power Systems, you get quality power equipment that's ready to go.
Many locations throughout the state: Our rental department is headquartered in Indianapolis. We have multiple locations across Indiana for convenient access to equipment, parts and emergency service.
24/7 rental services: Call our Rental Hotline any time of day. We'll quickly arrange your power equipment rental and prioritize your needs in the event of an emergency. We also offer dedicated technical support — call us anytime you're having trouble with your rental unit and get professional service sent directly to your site.
Experienced equipment specialists: Our technicians know our products and are happy to share expert recommendations for an electrical power equipment rental. Ask us about developing a long-term contingency plan for your organization, and we'll help you find effective power equipment and ancillary products that suit your goals.
Flexible rental terms: Rent from MacAllister Power Systems, and we'll personalize your agreement for the duration you need.
Reliable equipment, built exclusively for rental: We handle all service and maintenance for our rental power systems. The technicians at each MacAllister Power Systems location keep our rental selection in prime condition. You can be confident that the equipment you rent is ready to get the job done.
Contingency planning: Preparing your operations for unexpected power failure is a must. We have decades of experience with power logistics, including equipment delivery, set-up and operation. We'll help you determine what systems to integrate and where so you can deploy your plan effectively.
Contact MacAllister Power Systems for Cat Rental Power in Indiana
When your operations depend on temporary power, make MacAllister Power Systems your one-stop source. Contact a representative online or call 866-622-7367 today, and rent from a power systems company with more than 75 years of experience serving the local area.