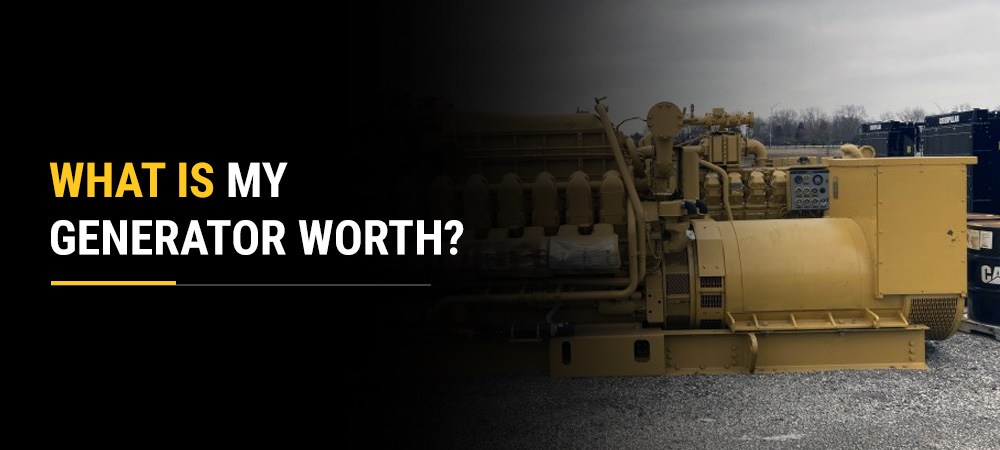 Whether you've been using your commercial generator for a few years and need to upgrade to a new system or want to get rid of one you no longer use, determining its value can help you ensure the best price. However, many elements will influence the price of what your unit is worth.
Depending on the model you have and how well you've maintained it, it could be worth much more or less money than you anticipate. Other influences, such as age, size and brand, can also boost or lessen the value of your system. In this article, we'll go through the different factors that can impact the value of your commercial generator and how you can use them to calculate an estimation of its value.
1. Age and Hours Used
If you're looking to sell your generator, the most important factor is that it runs and performs well. If your generator meets that criteria, the next thing you should consider is its age. The older it is, the lower its overall value will be.
For this reason, it's important to consider the manufacture date, specifically if your generator was built before 2007. Generators built before this year may not be able to meet the emission regulations set by the Environmental Protection Agency's (EPA) Tier Rating System. On a scale of one to four, generators are scored by emission quality, which can help determine a generator's overall worth.
The higher the tier, the better the quality. Most generators built after 2007 must adhere to the highest standards, Tier Four. Some states won't allow you to disconnect and reinstall your generator in another state if it doesn't meet these regulations, making it more difficult to sell and lowering its value. However, even if your generator was built before 2007, you can still sell it in a few states.
To get the maximum value from your generator, you'll want to consider how many hours you've used it. Check the hour meter to see the hours of operation, which will help you determine how much it could be worth. Essentially, the lower the hours, the more valuable your generator is.
For comparison, it's common to see an average standby generator with under 1,500 hours. Under 100 hours for a standby generator is considered very low. Continuous or prime power generators hold the most value when they are under 5,000 hours. Most continuous or prime power generators over 15,000 hours will need to be rebuilt which can be a costly venture. Something to consider is sometimes your hour reading on your control panel may not be accurate; you may have to get a technician to connect to the generator to verify this.
2. Fuel Type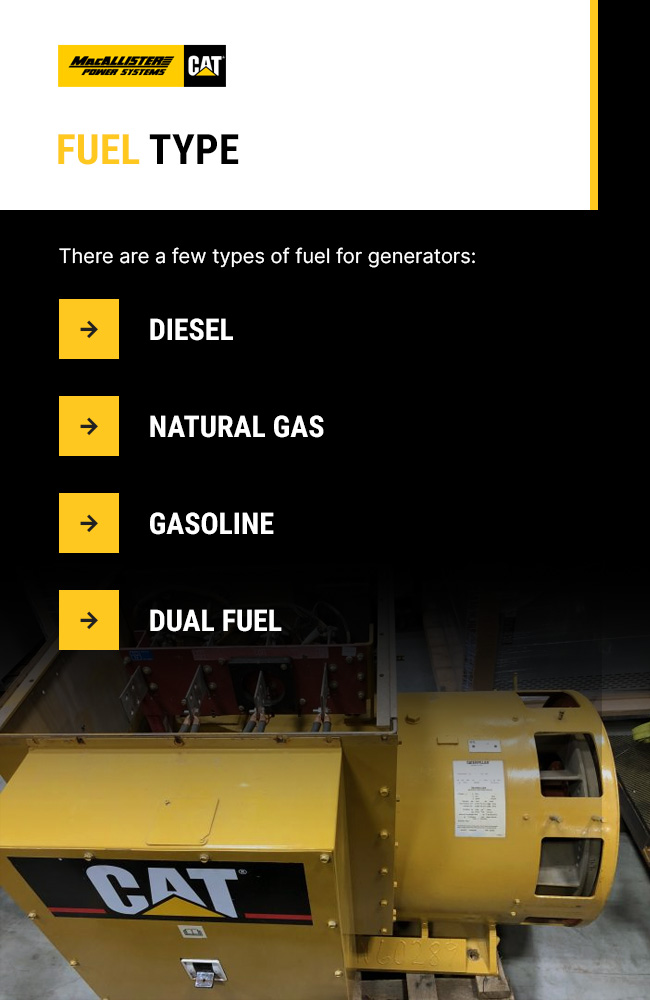 The next thing you'll want to consider is the type of fuel your generator uses. This is an important aspect because the type of fuel can determine how efficient your generator is and how much it would cost to operate on average. There are a few types of fuel for generators, each with their own pros and cons:
Diesel
Here are some characteristics of diesel that could influence your generator's value:
Lifespan: Diesel generators tend to last longer than others because of their simple design and durability. They require fewer parts to maintain and repair, resulting in lower costs.
Flammability: Diesel gas is less flammable than other fuel types, which makes diesel generators a bit safer and easier to manage if there's a spill.
Fuel supply: With diesel generators, you can rely on a steady fuel supply with minimal interruptions.
Natural Gas
Here are some advantages of natural gas that could influence the value of your generator:
Fuel efficiency: Natural gas is very efficient, which can help you save on fuel costs.
Noise: Natural gas generators are usually much quieter than other units, such as diesel. The amount of noise your generator produces can also be a factor determining its value.
Exhaust: Natural gas is one of the cleanest fossil fuels and is almost entirely odorless, while others produce a strong smell and exhaust.
Gasoline
Gasoline is a common type of fuel that's ideal for efficient and reliable use. Here are some other advantages of gasoline generators:
Noise: Gasoline generators are relatively quiet, which is useful in applications with no sound insulation.
Cost: This type of generator is often more affordable in the long run because of its efficiency, which also makes it attractive to buyers.
Size: Gasoline generators are generally lightweight and easier to move because they tend to be smaller in size and more compact.
Versatility: These generators can be used for different construction and on-site jobs. Their versatility allows them to be useful in various applications, which can boost their value.
Dual Fuel
Dual fuel generators have their own advantages that may be an excellent fit for another company. These benefits include:
Efficiency: When it comes to burning fuel, dual fuel generators use a mix of two fuel types that adjust to make up for any imbalances to generate power safely.
Versatility: There are many types of dual-fuel engine generators, giving you more of a selection.
Cost: Though dual fuel generators are usually more expensive, they tend to provide more cost-effectiveness over the long run than single fuel generators.
Environmental impact: These types of generators are an eco-friendly alternative because they have a highly efficient engine that produces fewer carbon emissions.
3. Size
The size of your generator is the next factor to consider when determining how much your generator could be worth. Generator size varies from watts (w) to kilowatts (kW), which measure the electrical output of the equipment. Here's a breakdown of what these units of measurement mean in comparison to the size of your generator:
Less than 20kW: Too small for most generator dealers
20kW-100kW: Medium
100kW-500kW: Large
500kW and above: Extra large
There are also generators measured in megawatts (MW), which equals 1,000 kW, about the size of a tractor-trailer. Usually, the smaller the generator, the smaller the power output, and the bigger the generator, the more it could be worth. This means that the size of your generator can have a significant impact on its value. Keep in mind that most generator dealers aren't interested in generators under 20kW.
4. Quality and Condition
While many elements can influence your used generator's value, the condition, brand and quality of your equipment can be some of the first things dealers look for to determine its worth. If it takes a while to power up your generator, or you can't do so at all, it can be an indicator that your generator has very low value.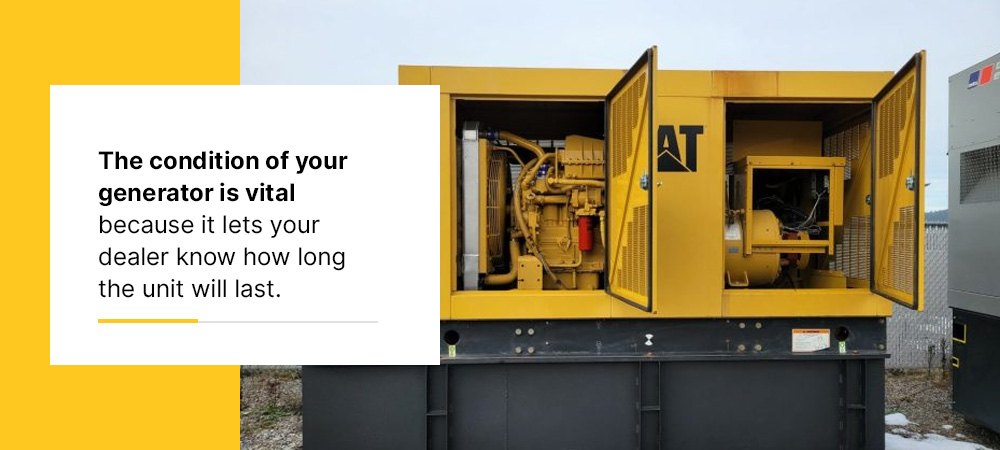 However, if it does power up and runs smoothly, the next thing a potential buyer will look for is its overall condition and brand. For example, a generator from a well-known, quality brand will be easier to price and sell than a generator from an unknown or less established brand. Overall, the name on your generator will hold weight regarding its value.
If you perform regular maintenance and upkeep on your generator, it'll likely run better than those that have worn-out parts or mechanical failures. The condition of your generator is vital because it lets your dealer know how long the unit will last and how it'll perform after purchase.
For instance, if your generator is covered in rust or was continually exposed to the elements, such as rain or heat, it might affect its quality. If your generator has been serviced and kept indoors when not in use, it could mean significantly higher value.
The physical condition of your used generator will give generator dealers clues about what your generator was used for and how well you maintained it, which can either improve or diminish the amount your equipment is worth.
5. Market Value
Another factor to consider is comparing your generator to the market value to help determine how much it could be worth. For example, if you see a similar generator for sale online — perhaps even the same make and model — you can get a better idea of how much your generator might sell for. It's a good idea to do your research and look around for listing prices of generators that share common characteristics. Voltage, number of leads, power rating, brand, enclosure, mobility, and other factors play a large role in determining the value of a used generator.
Just like selling a used car you will have a trade in value, private party value, and retail value. Retail value is what you are seeing in the open market. To get full retail value, you would have to spend several thousand dollars in maintenance, have a certified technician look over the unit, and have a strong reputation selling used industrial generators in the marketplace. In general, you should not expect to get more than 60-70% of the retail value of a generator.
6. Decommissioning and Removal
Finally, decommissioning and removal services will also factor into your commercial generator's value. Most commercial generators will need some level of decommissioning and removal. Some factors to consider during these services include:
Geographical location
Location of the generator on your property
Building and removal expenses
While it's one thing to find an interested buyer or dealer for your generator, it's another to move and transport it to the next location. For example, if your generator is in a hard-to-reach spot, such as a rooftop or on rough terrain, the cost of decommissioning and removal will be higher, which would result in a lower value for your generator.
Most larger generators require a crane and truck, which can be costly. This is why you can end up taking a loss on the initial price of your generator. Because commercial generators are often used in warehouses or facilities as primary or backup power sources, they're attached to complex systems. Some of these components are even regulated by specific laws, meaning you must move and dispose of them properly to avoid a potential fine.
In addition, improperly moving or disposing of any part of your commercial generator can cause environmental damage. Exposed wiring or fuel leakage occurring during the removal or transportation process can pose extreme danger and affect the integrity of the electrical connections that power the generator.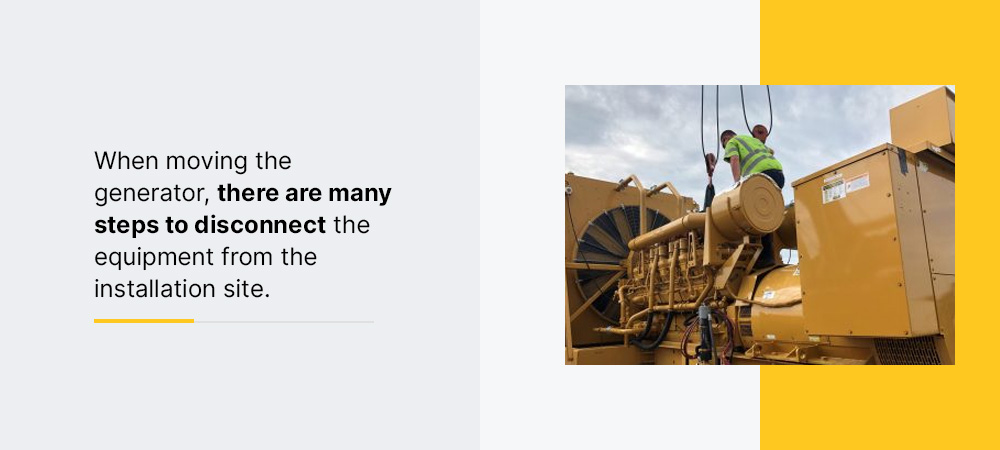 When moving the generator, there are many steps to disconnect the equipment from the installation site. Once it's moved to the new location, new connections will be established along with any required updated labels. This type of job requires proper decommission to get it from one facility to another in a legal and safe manner, which is why it's crucial to rely on professionals and experts.
Other services that might need to be performed when moving your generator include removing the old fuel and attending to any other electrical concerns, which require experienced electricians. This is often the reason that these services will be deducted from your profit, so it's important to keep that in mind when estimating or calculating how much your generator is worth.
Get a Free Appraisal With MacAllister Power Systems
As you can see, various factors contribute to the value of your generator. Though having an old or damaged generator can make it difficult to sell, each factor varies widely in how they affect your price. By going through a trusted source with a reliable reputation when selling your generator, you can get the best value possible.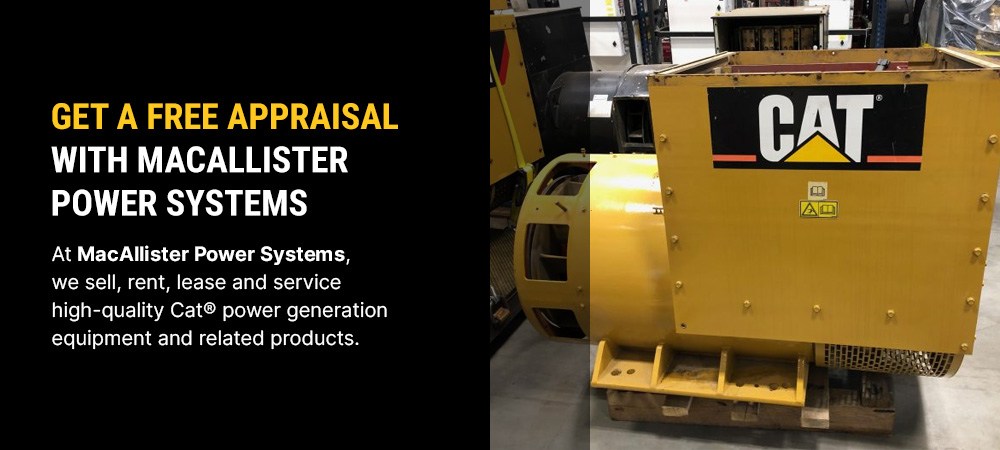 At MacAllister Power Systems, we sell, rent, lease and service high-quality Cat® power generation equipment and related products. We carry different types of generators to meet various needs and budgets and provide first-class service and in-depth technical knowledge. Get a free appraisal of your commercial generator today and get the best value for your used system.